19 avril 2010
New pics with Caro and Liza B/Special Shooting for Luc birthday about a new vision of Gil elvgren with Eric martin and Francis C From Paris
shooting special anniv de luc fan des pin ups, vision via gil elvgren avec eric martin et francis c/nouvelles images par caro et liza b,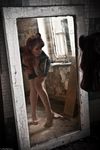 Love///
20 mars 2010
Salut tout le monde, merci a ceux qui ne m 'ont pas jugés, qui ont donnés ou soutenues moralement..
Je me suis faite operee a Lille de protheses mammaires, passant d un 90B a un 95D/petit 90E
Je fus douloureux mais quand on aime et qu on veut etre comme on aurai, on ne compte pas..n est ce .???
et ce que pense les autres...haha...chacun sa vie ;p ...
thanks for people who understund my vision of feminity and don't judge my choice to make breast implant...
they hurt me so much but i m happy...now i m a little 36D/DD
pics of the boobies coming after May...
take care ///many kisses
tina
01 juillet 2009
Tina wants a new pair of boobs and she counts on you!!

Miss Tina Von Nekro is a talented performer and breast implants will enhance her figures and her career!!

You have the POWER to make her happy!

How?

Donate 5 euros or more and get a signed photograph!!
by paypal to tinavonnekro@hotmail.fr
or money

ps: this is a serious matter.

tina est une pin up tattouee, et depuis son adolescence elle reve d avoir des seins siliconnes, gros complexe dans sa vie privee et qui ne correspond pas a ce qu elle est et ce qu elle voudrait etre... aidez la, rejoigner le groupe et participer via paypal vers tinavonnekro@hotmail.fr /envoi de monnaie au paiement de son operation..
ps c est serieux :) oui je sais je suis folle :)
Coordonnées
| | |
| --- | --- |
| Adresse électronique : | |
| Site web : | |
| Adresse : | Paris, France |
23 juin 2009
Hello!!! Just back from the hellfest !!! With Burlesque boulevard, we perfomed in the Electric Circus Tent, since 3 days at 5pm ...Thanks for the great audience...and for the crew... and all the people of Vip room ...Hope back next year ... My top 3 band : mad sin, suicidal tendencies and Hatebreed ..amazing show and awesome public .. I wait for the pics from this event to post it...hope next week ...take care ...love
Merci pour l accueil chaleureux du public sous la tente electric circus du hellfest, pendant ses trois jours, avec notre show, burlesque boulevard..merci a l orga en esperant refaire un show l annee prochaine..vu les retombees positives..
Si vous avez des photos, videos, n hesitez pas a me les envoyer!! merci d avance...je posterai des images des qu on en aura!! biz et a bientot
03 juin 2009
coming soon; photoshooting in june with Kribo,North france in July with liza B , belgium
New link coming soon in my website
http://www.wickedtalent.com
visit this website and join ..

Next upload in some days : new pics by melanogirl
make up by dita make up, corset by anticorps, et collier; vaskolg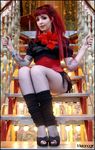 10 avril 2009
Hello
Pin up contest!!vote for your little redhead french pin up :)
Create your account now on www.kittenkoffinzombies.com and vote for me start 12/13 April, end 25 april..you can vote everyday all the 24 hours.. Support the french pin up and help her to win her place in the CALENDAR of kitten koffin zombies ..thanks you so much..
Cela prend 5 minutes, vous recevrez un mail de Confirmation .. et ensuite soyez pret pr le debut des votes le 12/13 Avril,fin des votes 25 avril!!
vous pourrez voter toutes les 24heures..la gagnante aura sa place sur leur calendrier..merci d avance de soutenir une pin up Francaise ...La concurence sera rude :))
bisous !!! many hugs and kisses
30 mars 2009

Catégorie : Art et photographie

hello
Some pics of me and the sweet SARA Ballini from Italie, by Kwensu in the new issues of "FETISH" magazine italian
you can buy it here
http://www.efedizioni.com/fetish/p001.html

Parution de quelques photos avec la jolie italienne Sara Ballini, par Kwensu dans un magazine italien "Fetish" le lien du dessus amene au site des editions avec un lien pour commander et un lien myspace..

merci a sara, kwensu et Fetish..thanks so much..

xoxo
Kisses



samedi, mars 21, 2009

Hello,
thanks to the sweetie Sara from Italie for this web publication and by the way thanks to LiveraEva, italian website with photography, model and much more!!
Pics taked on my website with EVESTREET, marla bloom, remi vimont and Mrs Korback
http://www.liberaeva.com
direct link http://www.liberaeva.com/1modelle/6/TinaVonNekro/1.htm

merci a la sublime Sara, d Italie pour son aide pour la parution sur le site Liveraeva, et merci aussi a ce site pour la publication et le texte sur mon activité de modele..
photo prise de mon site, de Evestreet, korback, remi vimont et Marla Bloom..

bonne visite!!


20 mars 2009
coucou, un petit apercu des photos backstages de dita make up, maquilleuse, lors du shooting avec Melanogirl, Paris, en Fevrier dernier !! (qui viendront bientot ) !!
hello all, some pictures from ditamakeup, make up artist from Paris, behind scene of shooting with Melanogirl, Paris, taked in the end of February (she work on...)
her link http://ditamakeup.canalblog.com

15 mars 2009
Et voila quelques nouveautés par Kwensu, Paris!! / New by Kwensu, Paris!! 2009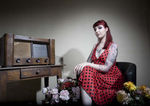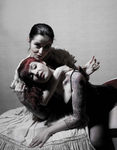 co model sara, from Italie ..
not available for shooting start to 27 march to end of April !!
Pas disponible pour shooting de fin Mars a Fin Avril ..Mais je reviendrai en force ensuite!!!
J ai quelques projets photos, ici en France, et a l 'Etranger..et je pense faire une lune de miel avec mon homme a Vegas et La debut Septembre..mais l argent ne pousse pas sur les arbres..Ca fait un bail que je reve d y aller..
h ave some project for 2009, here in Paris, and Maybe a little holidays in begin September in Vegas/LA for a wrong wedding with my man.. haha .. but depend of job and money ...
- Calendar: - March 2009: Combichrist in Antwerpen - End of April, Essen germany for Fibo, and Scrappers car show in Antwerpen ..
bisous
xoxo
12 mars 2009
Bonjour tout le monde!!
petite news pour dire que je parait ds un article web publiee par le site Flagrant Delices..
http://www.flagrantsdelices.com/a-5/20/5/599/apres-dita-place-a-tina-von-nekro-!.html
Click on this link for direct press web about me and burlesque ...in french sorry..
sinon, j ai realisée un shooting avec Sarah, modele italienne avec le photographe Kwensu, ainsi que prise de vue avec Melanogirl make up par ditamakeup, et avec ian holmes ..Les images viendront des que je les aurai recues!!
( new shooting with melanogirl, kwensu and ian holmes, coming soon, and put when i receveid this pics)
et ne louper pas bien sure PARIS TEASE le 22 mars au Blizzart(anciennement Opus café), avec show burlesque, defile, dr sketchy etc.. je serai preésente evidemment.. je defilerai pour Volute corset.. On vous attend nombreux!!
international people you re welcome for the paris tease show, www.myspace.com/paristease the 22 march , Paris, with famous artist, designer and much more...
bisouxxx